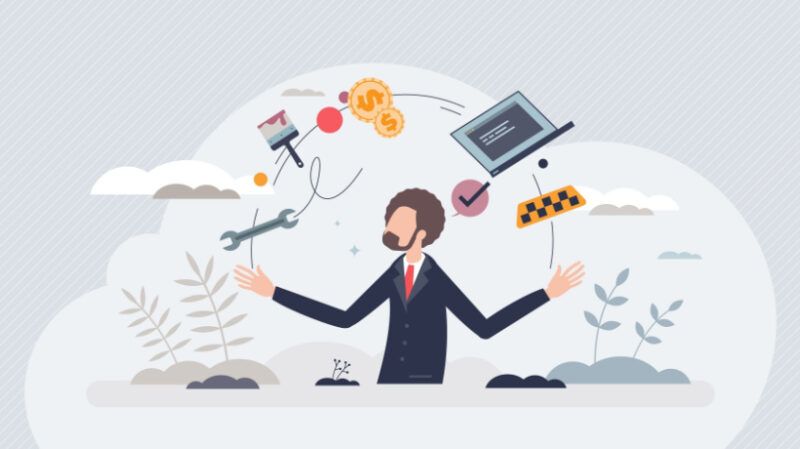 Skill Development For Gig Economies
The increased popularity of gig workers can be attributed to the convenience and profitability of these work arrangements. Would you thrive in this work environment with the right career skills? Undoubtedly, the gig economy has thrived through the financial crisis of 2008 and the COVID-19 pandemic of 2020. The number of gig workers is still increasing, but a stigma remains associated with freelance work and contracting.
Would being introduced as a solopreneur change how you perceive the gig economy? There has been an increase in the number of independent contractors, specialists, and professionals joining the gig economy.
Gig economies may not be suitable for every individual. To succeed and thrive in the gig economy, you must adopt a specific mindset and develop certain skills. Many industries utilize gig workers, including asset shares, transport-based services, professional services, manufacturing, online shopping, and tutoring. So today, we will learn in detail what the gig economy is all about and what special skills you need to thrive in it. Let's get started.
What The Gig Economy Is All About
As the name implies, gig economies feature temporary and flexible employment when workers are hired based on projects or contracts. An example of a gig economy worker would be a freelancer, an independent contractor, or an on-demand worker. Platforms like online marketplaces are excellent for bringing together consumers and service providers. Many freelancer platforms, including Fiverr and Upwork, allow gig workers to meet new clients, including writers, designers, and other professionals. Online platforms like Uber, Lyft, and Airbnb also facilitate working for yourself by delivering food, providing rides, or renting out space. Due to this shift, the future workforce will likely be adaptable, specialized, and flexible.
The Benefits Of The Gig Economy
The gig economy has some salient benefits, including:
As a gig worker, you will develop the skill of building a strong portfolio of potential clients and employers from which you can obtain work at different times of the year. Reducing reliance on just one employer eliminates the resulting job hazards. For example, if you are a graphic designer and someone wants to create a business logo for their project, they can contact you after reviewing your portfolio of previously designed logos on freelance platforms or marketplaces.
Gig workers, especially freelancers, benefit from the ability to work from anywhere. People can work a set number of hours and take holidays to meet their financial needs. Further, working as a gig worker provides people with a limitless opportunity to earn money without the restrictions of a pay scale.
By establishing a portfolio of multiple clients, gig workers can find work for various projects. The workers can reduce their levels of boredom because they have new tasks to complete.
Gig workers often enjoy the opportunity to establish their businesses. Rather than building websites, they develop the skills and abilities necessary to earn affiliations with various gig platforms. The platforms facilitate the connection between gig workers and various clients seeking freelancers to perform their tasks. Consequently, time and money are saved by reducing the need to purchase and install the resources required for entrepreneurship.
People can fulfill their professional ambitions through the gig economy, which is otherwise impossible during formal employment. Aside from allowing individuals to maximize their skills, it also allows them to generate additional income.
How To Prepare For The Gig Economy
A gig economy occupation requires the right attitude, expertise, and skills. As we prepare for the gig economy, we need to pay special attention to the following challenges:
As gig work is a new concept, gig workers need to remain current and continuously learn.
While gig workers are not employed, they should take responsibility for their work to avoid scheduling disruptions.
Due to the lack of security and safety associated with gig employment, gig workers must carefully plan their financial affairs. Part-time employment makes managing finances extremely important.
There is a high level of competition across the globe. The professional competency and consistency of the gig worker are the primary factors that will lead to repeat business.
Developing Skills To Thrive
Here are some important skills you must develop to work and thrive in the gig economy.
Focusing On Solving Problems And Challenges Rather Than Job Duties
It is not uncommon for employees to begin to perceive themselves in terms of their daily responsibilities at work. Our advancement depends on expanding our responsibilities and changing the tasks on which we are working. As freelancers, we must change our way of thinking. With increasing awareness of our skills, we can better use them to solve problems or enhance particular projects. By learning about our strengths and assets, we better understand how to leverage them.
Being Self-Directed
As employees, we learn how to be a team player. We focus our efforts on what our bosses tell us to do. It is our responsibility to direct ourselves when we adopt a freelance mindset. As a result, we need to learn how to work without being supervised by a boss. Goals are set, outcomes are created, and success and failure are our responsibility.
Build A Team Of Your Own And Nurture It
You are assigned to a team when you work for a company. In some companies, you can hire and fire employees, but only by the company's policies. When you work as a freelancer, you must assemble a team. Being successful requires you to think deeply about who makes you successful. Are there people who complement your abilities and skills? How do you challenge yourself and come up with new ideas? If you're hustling and developing relationships at the same time, how do you do it?
Entrepreneurship Skills
People with entrepreneurial skills can enhance their customer service and, consequently, their client ratings, understand promotions and maneuver them effectively, and take advantage of opportunities across multiple platforms. Entrepreneurship skills can be useful for high-skilled and medium-skilled individuals for managing, growing, and improving their offerings on platforms.
Developing Communication Skills
Interacting with clients is an important aspect of gig workers' jobs. Communication skills, such as the ability to negotiate, brand and market one's product, resolve conflicts, and make decisions, will prepare them to handle issues effectively.
Learning In A Dynamic Environment
As everything moves so quickly in the gig economy, freelancers often take on several tasks daily rather than typical employees who have to focus on and think about just one business or job at a time. Freelancers need to learn quickly because it allows them to work on more jobs simultaneously.
Asking The Right Questions
Many don't know how to ask questions; instead, we jump to the most obvious or first hypothesis without exploring further. When you work in the freelance economy, you often have to ask better questions before you offer solutions to problems. The ability to uncover where you can add the most value is a skill we all should learn, especially as freelancers.
Promoting Oneself And Building A Brand
Having to sell oneself is a difficult task for most of us. Looking for a new job can be difficult, if not downright painful, since it requires you to market yourself in ways that can be uncomfortable. Freelancers must always market themselves. A person's "personal brand" must be defined and articulated regularly to achieve success.
Fluency In Digital Technologies
Workers working on online platforms should be mindful of online safety and privacy issues and how technology is used when connecting, sharing, and aggregating data. Digitally literate workers can connect via social media and messaging services, share best practices, and discuss their rights. Complaints can also be discussed.
Conclusion
Businesses, workers, and policymakers face new challenges and opportunities from the gig economy. Diverse skillsets are essential for individuals to thrive in this environment. Remember, the gig economy is here to stay and will only increase. You need to adapt to it and take advantage. We hope this article provides you with enough insights into the gig economy so you can start working independently.